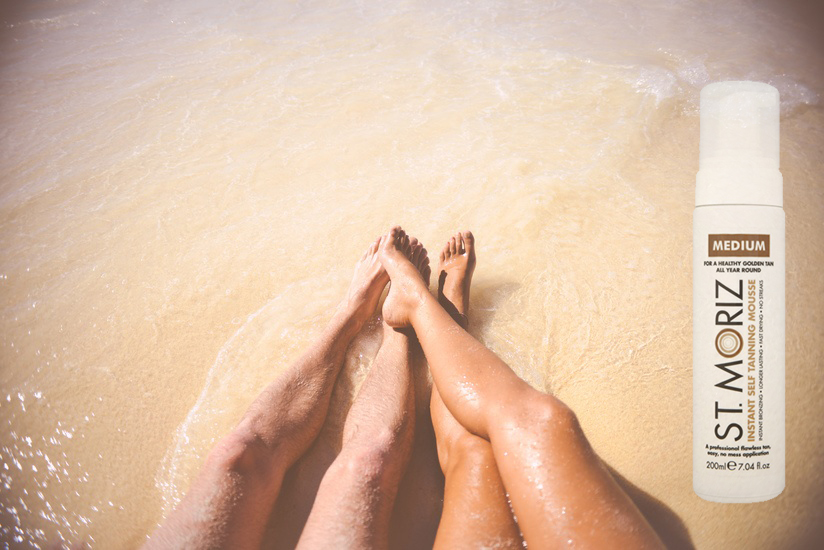 Rating 4.5
Watch out St. Tropez – St. Moriz is coming to get ya. I first tried this product a few years ago when I was feeling too broke to splurge for my usual St. Tropez, and honestly expected very little considering how cheap it was. I was skeptical while reading reviews on Amazon comparing it to the big name giant but hey – it was worth a shot.
After trying St. Moriz I was very pleasantly surprised and have purchased it many, many times since. I'm genuinely surprised that this isn't one of the most popular self-tanning products out there. For those looking for a flawless tan that's easy on your wallet it's an absolute must-try!
Here's all you need to know.
How to use it:
Use the St. Moriz Mousse with a tanning mitt. Work your body from the legs up covering one section at a time (i.e. lower leg, then upper leg, then stomach). For a detailed self-tanner usage guide click here.
You can also check out this awesome tutorial:

The look & feel:
This tanner will be very similar to its high end competitor in both texture and weight. It's an ultra-light, velvety mousse that easily glides against your skin.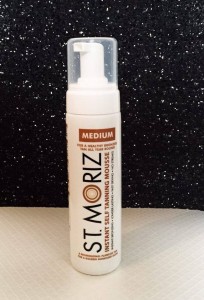 The smell:
This product has a very light scent that is only noticeable immediately after applying. Within half an hour you won't smell like anything at all. This is very unusual for a self-tanner and probably one of my favorite things about it! I'm not afraid of putting it on and going out smelling like a chemical lab.
The color:
St. Moriz has a green base to counteract the orange that all self-tanners fear. The result is that you get a beautiful true bronze color that will look totally natural. The color can be seen right after application and will develop more in the next few hours (so yes – you can apply it right before going out and already look nice and bronze). The color is buildable with multiple applications. After reaching desired shade, use twice a week to maintain.
If your first coat turns out uneven don't worry – shower the next day and reapply. The second layer will even it out.
How long until this self-tanner washes off?
I would say the color starts to fade in about 3 days. If you don't moisturize and forget to maintain, the color can look a bit patchy when coming off – but this is really easy to prevent with proper usage.
The price:
The cost ranges $9.00-$15.00 for 200ml (6.8 oz.)– an absolute steal! You can purchase it here.
How long will this product last?
Depending on how frequently you self-tan the 200ml bottle should last an average of 2-3 months (based on 2-3 day a week usage). Those only using for special events will be able to make this tanner last for over 6 months!
Is it worth the investment?
Yes. It's cheap, it makes you look bronze, and it doesn't smell bad – you have absolutely nothing to lose. You don't need the sun to tan. Go be a bronze goddess!
Have you tries St. Moriz Bronzing Mousse? Was your color as bronze as mine? Did you like the smell? Let us know below!