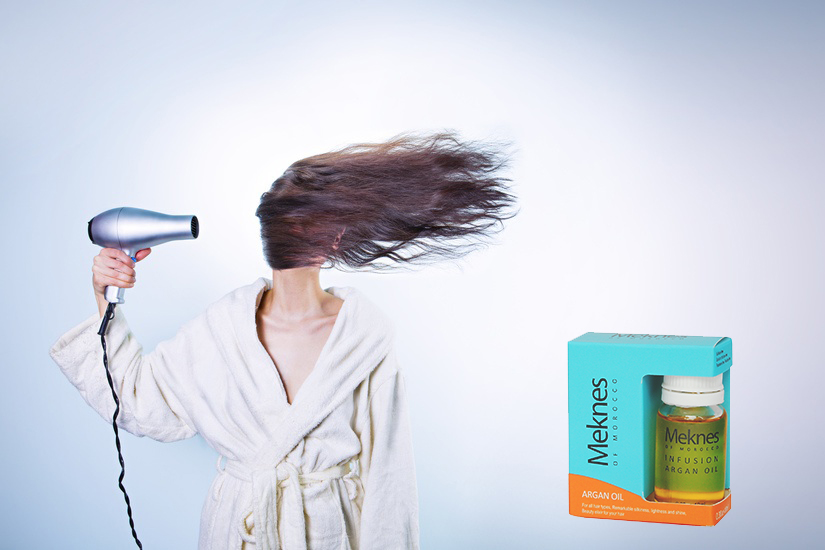 Rating: 5/5
This is the hair oil you've been waiting for. I fell in love with this product after the first time I used it and have been hooked ever since. Every time this oil is in my hair it becomes more manageable, smooth, and hydrated. Meknes oil is packed with good stuff like vitamin E, Keratin, Aloe Vera, and Almond oil.
Just to give you a bit of my hair history – I have done some serious damage to my locks throughout the years – going from dark brown to red to blonde multiple times and using excessive heat. My hair has still not recovered from the pain I've caused it, so I try to replenish it with the best products I can find, and I've tried a lot of them.
The Meknes oil is perfect for anyone with dry, fragile, damaged, frizzy, or otherwise unmanageable hair. It's also ideal if you use a lot of heat on your hair (curling, straightening, and blow drying). If you need any more convincing you should know it's used in many of the highest end salons worldwide.
How to use it:
Shampoo and condition as usual. Towel dry your hair (gently wrapping it in the towel, not rubbing as this causes major breakage). Put one or two full pumps of the oil into your hand and work all over. If you feel like you need more oil, use at your discretion. You can use this oil every time you wash your hair before drying it. Do not use on scalp (you don't want it to get oily).
The look and feel:
Silky oil with medium thickness. Golden yellow in color. Very easily absorbed by your hair strands.
The smell:
Heavenly. Every time I use this oil I get compliments on how good my hair smells!
The price:
Ranges from $20.00 – $45.00 depending on size. Sold by exclusive beauty retailers and salons.
How long does this product last?
A 3.33 oz. (100ml) bottle will last you about 5-6 months (if not more). A little oil goes a long way.
Is it worth the investment?
This product is SO worth buying. You hair will thank you and look absolutely fabulous. If you can get your hands on this oil go for it! I will share a list of places it can be purchased in the near future if you can't find it online (it's often sold out).
Fun story: after I told my boyfriend I'm bringing my Argan oil on our trip to Greece he was convinced for weeks that I had "dragon oil" and thought it was super cool and never questioned it. I corrected him after he started talking about it to people and they thought he was crazy.
Have you tried the Meknes of Morocco Infusion Argan Oil? Let us know your thoughts below!